Apex Controller System with Lab Grade pH Probe
Apex Classic Controller System w/ Lab Grade pH Probe
This Item Ships "Free" with-in the 48 Continental US
OUR FLAGSHIP AQUARIUM CONTROLLER
Our Apex System is the best-value aquarium controller on the market today. Dollar for dollar you will not find a higher-quality controller that gives you more features, is easier to use, or has a larger and more active user base than the Apex. If you haven't done so already,

please read our Why Apex?

page to get a high level view of why the Apex is so important to your aquarium.



THE APEX SYSTEM COMES COMPLETE WITH:



THE APEX BASE UNIT – IT ALL BEGINS WITH THE BRAIN



The
Apex Base Unit
is basically the brains of your entire Apex System. The Apex Base Unit (ABU) is far different than from what any other controller at this price level is offering. The ABU is basically a small computer whose only job is take care of your aquarium.
It has a 32-bit microprocessor and a built-in web server. The web server makes it possible for your to configure and operate your Apex from any network-connected computer or mobile device – no software to install on a PC – it also means it's Mac compatible!
The Apex runs at up to 10x the speed of other controllers in its class due to its advanced processor technology (most others use 8 or 16 bit microcontrollers). It also has enough memory on board to store many month's worth of complete tank data in non-volatile RAM. Even with a power outage, your tank history and all configurations are safe.

ENERGY BAR 8 – SO MUCH MORE THAN APOWER STRIP



The Energy Bars available for our Apex systems are much more than a glorified power strip. In fact, this component of your aquarium controller equipment is far more important than most people realize – and not all systems are created equal! It is obvious that this component is key to controlling things on your aquarium, but what is not so apparent is how it is critical to preventing catastrophe in your aquarium. Here's how.
BUILT IN INTERNET CONNECTIVITY



The Apex Base Unit is Internet-ready straight out of the box. Just plug it into your router and you are good to go – no software to install! This means that you can control your tank from any computer (or mobile device) in the house.

There is no need, ever, to connect it directly to a computer to monitor your aquarium or update its firmware. And, once you set up external access via port-forwarding on your router, you can easily access your Apex from anywhere in the world via a web browser or via our iOS or Android apps!

And, with Internet Connectivity, the Apex can be configured so that you will get an email or text message whenever something is not quite right with your system – whether that is an over-temperature condition in your tank, the pH is out of whack, or there's a leak on the floor!
BEST SOFTWARE AVAILABLE ON ANY AQUARIUM CONTROLLER



NOT TECH SAVVY, NO WORRIES
Built-in wizards allow even the most technophobic person out there to be able to program the basics like light timers and heater control in a matter of minutes. Then, as you build up confidence and engage the awesome Apex Community Forum, you will be taking it to the next level in no time.


UBER REEF GEEK, WE HAVE YOU COVERED
The Apex has a powerful yet easy to learn programming language. This enables every user to get creative and come up with new cool ways to use their Apex…from creating storms in their tanks, to complex dosing of additives, to unique mixing of colors on their DIY LED lights. The possibilities are pretty much only limited by your imagination. And again, the Apex Community Forum is out there to help you along as well.
The Apex has a full-featured graphing engine built right in. As an example, you can very easily compare the cycles of your outlets with temperature and pH, identify ongoing patterns of trouble, and even discover ways to cut costs like being able to visually see when two external devices (such as a heater and a chiller) are on simultaneously when they really shouldn't be.
GOING MOBILE? THE APEX DID!
The Apex is the only controller on the market that has manufacturer-written, full-featured applications for the computer browser (Mac or PC), iPhone, iPad, and Android phones and tablets (currently available as a beta). Now you can take your Apex with you anywhere and check in on your tank, reprogram your lights, or even feed your fish remotely from the touch of your phone!
COMPLETE AQUARIUM MONITORING RIGHT OUT OF THE BOX



The Apex Base Unit is equipped with the following monitoring ports:
Temperature Port

pH Port

pH/ORP Port (can be used for either – a feature unique to the Apex)




6 – I/O switch inputs (for use with leak detectors, door switches, feed buttons, ATO, etc.)
LET'S TALK ABOUT A LITTLE THING CALLED GALVANIC ISOLATION
This is a topic other controller companies like to avoid. Why? Because not all monitoring ports are created equal. Galvanic Isolation is key to getting accurate readings on pH, Temp, ORP, and Conductivity. Some controllers either do not do it well (they are still figuring it out) or possibly not at all.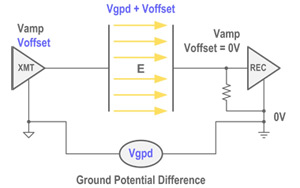 So what is Galvanic isolation? Well, the tech-answer is that it's where two or more electric circuits must communicate, but their grounds may be at different potentials. It is an effective method of breaking ground loops by preventing unwanted current from flowing between two units sharing a ground conductor.

Now of course that is all geek-speak to most of us so let's just put it this way: on a controller without galvanic isolation, your readings of pH, Temperature, ReDox (ORP), Conductivity/Salinity, etc. will be completely inaccurate. Of course it costs us more to add this circuitry into the Apex, but what good is a controller if it
LED DIMMING AND TUNZE PUMP CONTROL



The Apex Base Unit comes standard with four channels of 0-10V control. These outputs are controlled in the Apex software and are most commonly used for LED dimming or Tunze speed control pumps. By using one of our optionally available cables, you can connect any Apex Ready 0-10V device to these ports. This means you can do cool things like have your LED lights ramp up and down to simulate sunrise and sunset!

They can also be used for various DIY purposes like controlling the dimming level on Meanwell LED drivers. Should you need additional channels of 0-10V control, no problem, simply purchase our VDM module and get four more – and also get a connection for Apex Ready+ LEDs!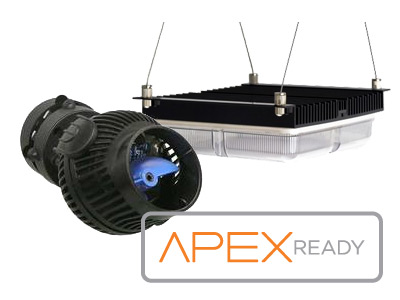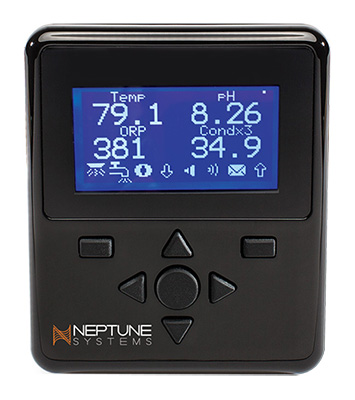 THE DISPLAY MODULE
The Apex Display module is a sleek and compact way for your to interact with the Apex Base Unit and control nearly every aspect of your Aquarium.
MECHANICAL, NOT MEMBRANE KEYPAD



Our Display Module uses high-quality, mechanical buttons. So what you say? Well many devices out there make use of what are called capacitive touch pads. This type of membrane button is just fine for your toaster oven, but in a saltwater environment it is highly susceptible to failure. So, even though the cost to us was higher, we went with mechanical buttons for our Display Module ensuring your product a much longer life.
ADJUSTABLE CONTRAST, HIGH-RESOLUTION GRAPHICS DISPLAY



While some may tout the importance of a color display, we disagree. We believe the most important thing for our customers is ease in readability and size of the display. What good is a color display if it is barely larger than a postage stamp. That is why we went with the backlit graphical display we did. It was the perfect match of function and value for our customers.
BUILT-IN SPEAKER PLAYS MULTIPLE ALARM TONES



Inside the Apex Display Module is a tiny speaker with a big heart. This speaker will play one of many alarm sounds and tunes that are built into the Apex. These alarms are perfect to alert you of a water leak, over temp, or whatever you condition you desire to program into the Apex.

MULTIPLE DISPLAY MODULE CAPACITY



With the Apex Display Module you are not limited to having just one control panel. With the Apex (as an option) you can add one, two, even three control panels all to the same Apex. And, these are not watered down, smaller versions of the main control panel, all modules will have the same display and functionality.

THE APEX SYSTEM COMES WITH TWO PROBES:
LONG LIFE TEMPERATURE PROBE



Neptune Systems manufactures our own temperature probes in-house. Why? Because we saw the level of early failures due to using off-the-shelf temperature probes like those used in stand-alone digital thermometers as well as those used by other aquarium controllers. These probes often fail because they were never designed to be permanently submersed in saltwater. We custom build our temperature probes using a proprietary method that encapsulates the business end of the probe itself from the corrosive effects of long term saltwater submersion.
We tested many probes until we finally selected an manufacturer that would provide long life as well as consistent and accurate performance. We do not cut corners on the probes we supply. They may cost a little more than the bargain-basement probes you might see out on the open market, but there is a difference.

OTHER PROBES AVAILABLE



The Apex System can be fitted with two pH probes or one pH Probe and one ORP (Redox) probe. Go to our probes page to read more about what probes are available to add to your Apex System.